Rivers provide a very important green corridor for wildlife and people. Letcombe Brook is home to many protected species and as a chalk stream is considered a Priority Habitat by Natural England.
Letcombe Brook provides not only protected habitat for wildlife but also important green space for people to enjoy, a source of high-quality water for drinking, industry and recreation and an important passage for water at times of high rainfall. For these reasons it's important that the land in the Letcombe Brook corridor is managed sensitively and responsibly.
The Letcombe Brook is owned by over 140 riparian landowners, including local residents, businesses, parish and town councils and the Vale of the White Horse District Council.
Letcombe Brook Project promotes environmentally responsible land management practices amongst landowners and land managers and works closely with them to protect the brook. Our Project Officer is happy to arrange a free visit to provide advice on issues such as legal obligations and responsibilities or habitat management and can work with you to develop enhancement schemes.
Information about your legal rights and responsibilities as a riparian owner, including protecting wildlife and minimising flood risk can be found here: www.gov.uk/guidance/owning-a-watercourse
Check in the Frequently Asked Questions (FAQ) section of this website for further advice before contacting the Project Officer.
General Advice
If your land boundary is next to a watercourse it is assumed you own the land up to the centre of the watercourse, unless it is owned by someone else.
You are responsible for maintaining the bed and banks of the watercourse and the trees and shrubs growing on the banks. However, riverbanks should be left as semi natural and not "gardened" as they provide an important corridor for many species of wildlife. They should also be managed in such a way that promotes the establishment and survival of both marginal and in-stream native vegetation.
You must control invasive alien species such as Himalayan Balsam. Balsam is best controlled by hand pulling the whole plant before it seeds. Leave it to rot in-situe to prevent risk of transfer.
Please help to protect water quality. Do not use riverbanks to dispose of garden or other waste, where it could be washed into the river. This includes grass cuttings, which pollute the water.
Make sure any work you do on a watercourse fits with the natural river system. Work must not damage wildlife and wherever possible you should try and improve the habitat. Speak to the Project Officer or relevant risk management authority about wildlife and nature conservation.
Practical advice about watercourse maintenance can be found here:
Large Landowners and Agricultural Land
Farmers should use techniques to prevent rainwater from carrying off topsoil into the watercourse and leading to a potential pollution incident. This runoff damages the land and the ecology, quality and capacity of the river channel. Allowing runoff may constitute a criminal offence. If you are a farmer, this could threaten your Single Farm Payment
You can find information about preventing soil erosion and runoff in the following publications: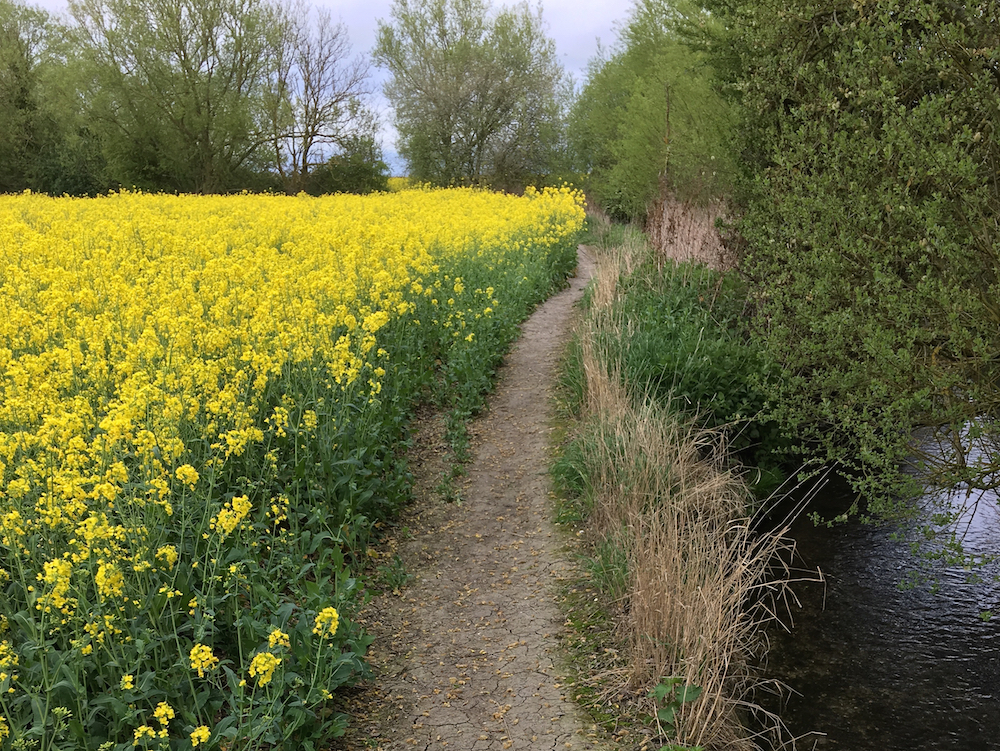 Nature conservation
As the Letcombe Brook supports water voles and otter, both legally protected species, you may need permission for works in or near a watercourse from a conservation body as well as the risk management authority. Please seek advice from the Letcombe Brook Project Officer.
Visit www.naturalengland.org.uk
Erosion
Moving water wears away riverbanks causing erosion as part of a natural process. Natural vegetation on banks helps to prevent erosion but heavy shade from trees can lead to bare banks prone to erosion. The local risk management authority will probably need to agree to any bank protection work. They will encourage you to use soft engineering techniques, where possible. This means using natural materials such as woven willow spiling or planting to limit erosion, rather than blockstone or steel sheet piles.
Works on a watercourse
May require planning permission, as well as a flood risk activity permit or ordinary watercourse consent. Your local planning authority can advise whether your proposed works will require planning permission, and possibly a flood risk/flood consequence assessment to support your application.
Visit www.gov.uk/guidance/flood-risk-activities-environmental-permits
River control structures
Affects river levels and flow, for example a mill dam or weir. If you own one you are legally obliged to maintain and operate the structure properly. You must keep any structures, such as culverts, trash screens, weirs and mill gates, clear of debris.
You should not cause obstructions, temporary or permanent, that would stop fish passing through.
The Environment Agency regulates structures, sluices and dams that stop freshwater fish, salmon, trout and eels moving along the river. If you intend to build, modify or maintain an existing structure you are legally obliged to inform the Environment Agency. Contact the Fisheries, Biodiversity & Geomorphology Team at your local Environment Agency office for more information.
Visit http://www.gov.uk/government/organisations/environment-agency/about/access-and-opening#local-environment-agency-offices
Water Abstraction
Contact your local Environment Agency office if you want to abstract water. The Environment Agency guide Abstracting water – a guide to getting your licence is available at:
www.gov.uk/guidance/water-management-apply-for-a-water-abstraction-or-impoundment-licence