Willow Walk Nature Reserve, Wantage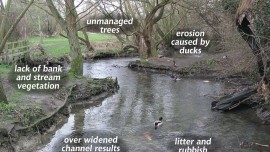 Project Outputs
Eight skips of rubbish removed from the brook
Narrowed river channel to speed up the flow and reduce silt deposition
Tree management to let in more light and let bare banks recover
Creation of new footpaths to link the reserve to local community
Organised guided walks and installation of an interpretation panel
The project cost almost £32,000 to implement with funding from WREN (Waste Recycling Environmental), and contributions from VWHDC, Wantage JET and Autotype.
The Wharf, Wantage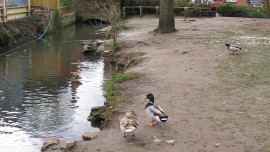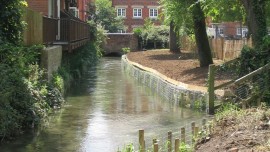 This prominent area in the town was suffering from eroded banks caused by a huge duck population and over-shading due to lack of management with lots of rats and rubbish in the area.
Project Outputs
Revetment work to restore 52m of eroded bank
Duck welfare awareness campaign to reduce feeding and associated problems in this area
Worked with VWHDC Landscape Team to re-landscape the area to let in more light, improve seating and access and install interpretation panel.
Project costs of £44,500 were covered by donations from WREN, Wantage JET, VWHDC and Bill Atkinson (Bushby).
Completed
Completed Projects
Many projects to improve the brook and surrounding environment have been carried out over the years, details of a few of them are given below.
Post-flooding Projects
Following the serious flooding in the brook corridor in 2007, a number of flood alleviation projects were undertaken, including:
Removing gravel deposits under the Denchworth Road bridge in Grove.
Removing a small, unused footbridge in Kingfishers, Grove.
Removing silt from behind Wantage Old Mill, a high-risk area, and installing groynes to limit future silt build up.
Clearing the balancing ponds in Grove and developing a plan for their future maintenance with the help of Thames Water.